Basement remodeling traditionally involves designing family rooms, kids' playrooms and guest bedrooms. While those are still popular options for expanding your living space, many Merriam, Shawnee and Olathe homeowners are taking notice of the current trend of creating a home theater in the basement. This is a very lucrative choice if you're planning to sell your home because it increases its value. In terms of family enjoyment, it's priceless, due to the countless hours of entertainment you'll enjoy!
Let's check out some of the latest innovations for home theaters in Lenexa, Prairie Village and Overland Park.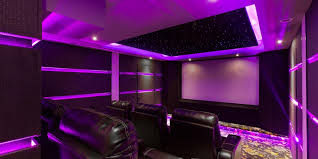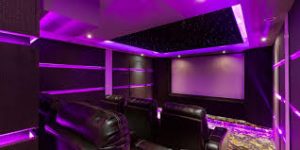 The basement is an ideal space for a home theater because it's quiet, isolated and dark, making it easier to control sound performance and lighting that won't interfere with the regular activities of the home. And with almost everyone utilizing electronics, it just stands to reason that home theater basement remodeling include the most innovative technologies available, and there are a lot of them.
The video system is the core of a home theater and the primary point of the basement remodeling structural plan.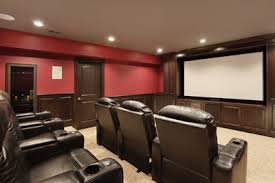 If you have space, large flat-screen LED TVs are a popular choice.
Cushy, comfy sectional couches or the newer, modern theater seats with places for drinks, USB jacks, massage options and kick-out footrests for basement remodeling of your home theater can provide plenty of comfortable seating for everyone in the family. Or, for a nostalgic touch, install old movie theater seats!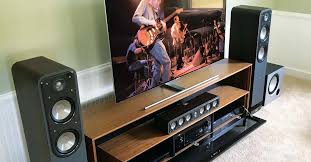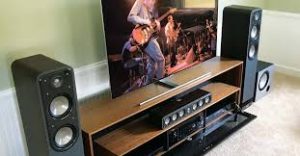 Innovative basement remodeling can include a sophisticated control system with things like an all-inclusive remote, iPad, iPhone, or an entire home automation system. 
This will enable you to control lighting, sound, and everything else you need in one touch.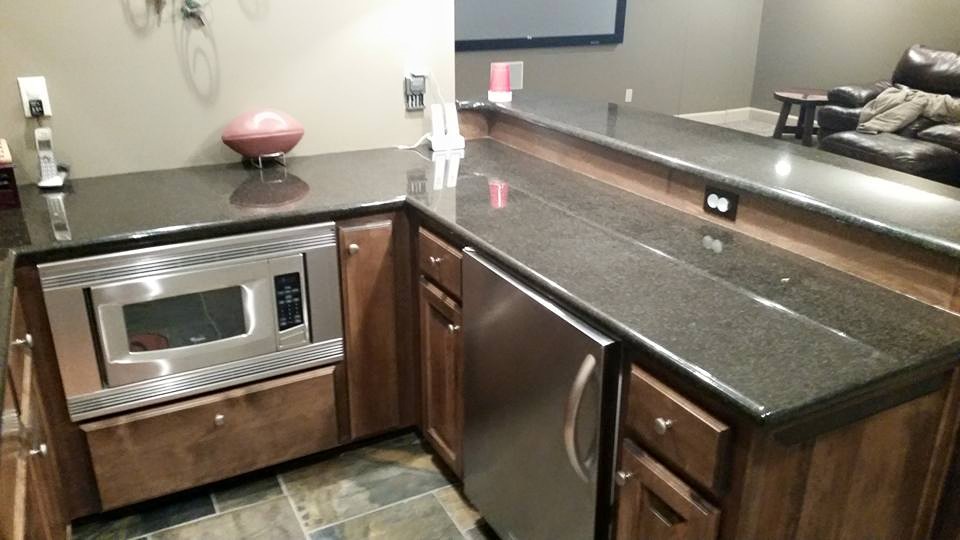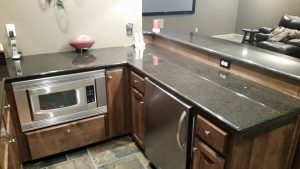 Custom cabinetry on either side of the screen can hide wiring and house DVR boxes , DVD players and other related components.
Other cabinets can hold a microwave, a mini-fridge plus counter space for preparing snacks and refreshments you can enjoy during game or movie nights. 
The acoustics of your Leawood home theater can have a significant impact on the sound quality of your home theater.
Light and sound are significant factors for home theaters, and many Johnson County, KS homeowners have discovered how surround sound speakers can enhance your entertainment experience to the max! A good quality sound system does not have to be the most expensive one out there; in fact, smaller areas usually can't support a large AV system.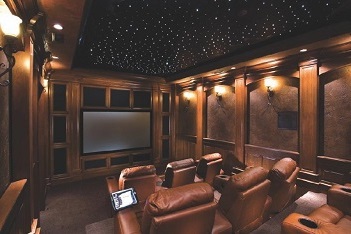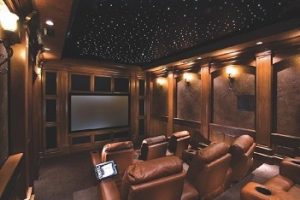 Basement remodeling can contain sounds and limit the entrance of outside noises by creating a space that ingests sound instead of reflecting or transmitting it. Plush carpeting reduces extraneous noise and adds another level of comfort and luxury to home theater basement remodeling. Even better, cork flooring is beautiful, durable and low maintenance. Acoustic ceiling tiles are perfect for covering an unfinished ceiling. Drywall covered with thin indoor carpeting absorbs sound and gives a better home theater experience.
Basement remodeling provides a lighting framework and seating plan to make the best possible movie viewing experience. With options for dimming lights and recessed lighting, in addition to custom-designed seating, you can have a state-of-the-art home theater arrangement that works for the space you have.
At Johnson County Remodeling, our focus is on satisfying our customers. We want you to love where you live, and we do everything we can to help you plan and implement the home theater you dream about. Just give us a call and we'll sit down with you and go over all your basement remodeling options.
913-322-9334