There are so many ways that basement remodeling can transform your home, in addition to utilizing the space more effectively. There are many exciting trends for creating an inviting, functional home office, man cave, entertainment room or comfortable home theater. If you're looking to turn a dark, unappealing unused space into something vibrant and useful, here are several ideas trending in Johnson County.
Light it Up! Whether you add natural light by installing large windows, additional doors, or special lighting features, this is a hugely popular trend for illuminating a dark basement.
Even daylight basements can be improved on when you add elegant French doors!
Maximize Space! Useful for both a home office and a home theater, make the most of the square footage you have. For offices, go vertical – with shelves! Floor-to-ceiling shelving is great for allowing plenty of space for foot traffic and furniture. Also, decorating with light, neutral colors makes the room naturally look and feel larger; in addition, furniture pieces that are scaled to fit the smaller square footage enhances the space.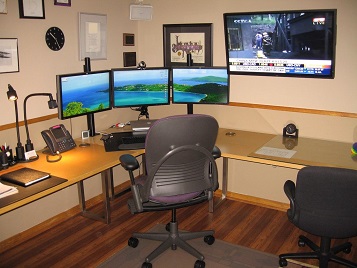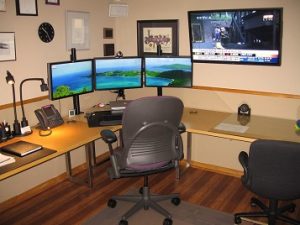 Styles for home office desks are wide and varied, and depending on the amount of space you have available, you can go big or go small – it's all in the design. Corner desk units are immensely popular in Overland Park right now, especially for the temporary necessity for many Johnson County residents to work remotely from their homes. Most basements have that unused corner that is ideal for this style desk.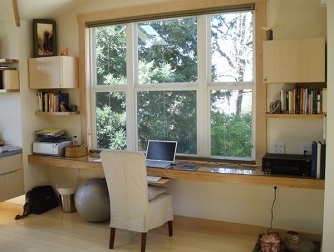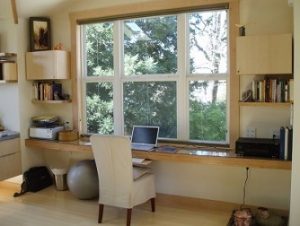 To really open up the room, free-floating furniture pieces are one of the most popular decorating trends. Johnson County Remodeling is seeing this popular trend throughout the communities of Lenexa, Leawood and Mission. The clean, sleek lines are not only beautiful but reduce the floor space a normal full-sized desk would use. This style works just about anywhere in the basement – along a back wall or beneath the stairs.
If entertainment is more your focus for your basement remodeling project, basements are an ideal location for a media room or home theater. Two very important aspects of home theater design are acoustics and illumination. The floor is usually concrete so vibration from sound is reduced, and also keeps sound from escaping, so you can turn up the volume on those action-packed movies.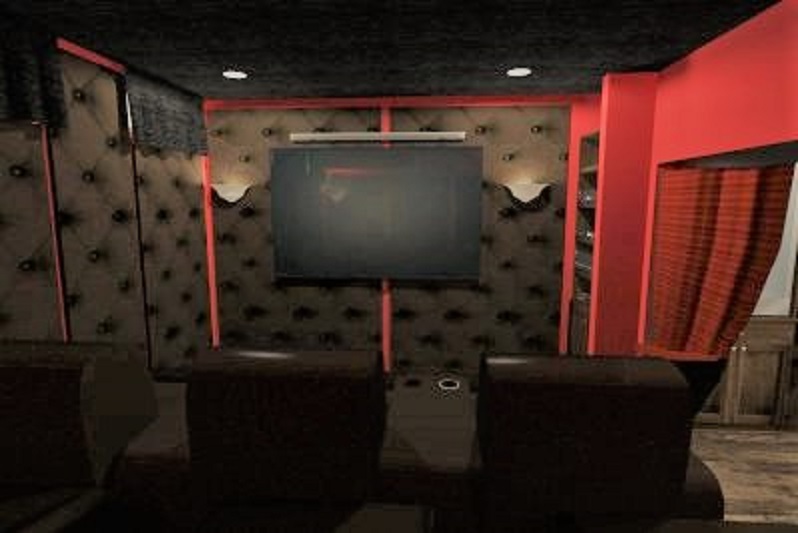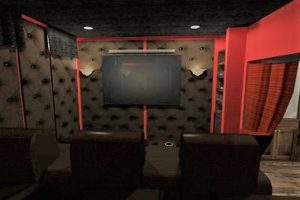 Most of the ideas we come across prefer a dark, sophisticated color scheme. If you want a 'real movie theater' experience, darker colors deliver much better lighting conditions. On the other hand, a more colorful palette will give you illumination as well as the display wall surface. For a truly sensational home theater, a complete basement remodeling makeover can surpass your expectations.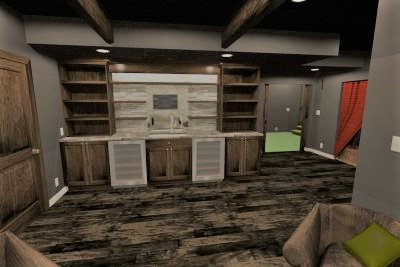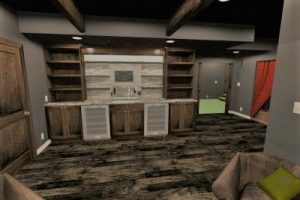 Another trend we've been seeing is combining a kitchen with a wet bar, comfortable seating and other features such as gaming tables or a home gym to create a trendy hangout for the whole family. It's easy to structure a home office space into the design, as well. Further, expanding outdoors to the patio with an outdoor kitchen is a basement remodeling special project that refines outdoor living to the max! 
Wherever you live in Johnson County – Lenexa, Overland Park, Leawood, or Mission – Johnson County Remodeling, as a leading basement remodeling company, has the vision, experience and skills to create any kind of home remodeling project you can dream up! From creating a small office space inside a closet to a complete home makeover, we are the experts to call!
913-322-9334