Basement remodeling projects typically involve turning the space into a kids recreation room or adding a bathroom or laundry room. While that's still a good option, there are many more exciting ways to make your basement not only more functional but also create a space the entire family will enjoy. Paying attention to current trends in the area is great for generating ideas for your own basement remodeling project!
In many homes, the basement is often an unused, underutilized area of the home with unfinished concrete floors, exposed overhead ductwork and wall studs. You can turn your basement into something more that can make your basement an integral part of your home. Many homeowners have already realized that they can put this large, expansive space to good use and add significant value to their home in the process. There are several popular design trends that can enhance your living space and change the entire dynamic of your home!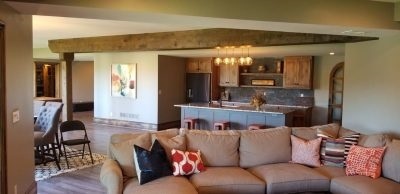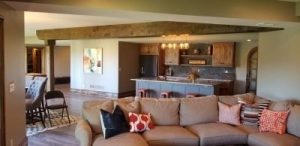 Open concept basement remodeling is the number one trend. A multi-purpose area – from a game room to a wet bar, from a playroom to a home office – maximizes limited square footage. When you add a set of beautiful French doors to let in additional light, you can turn a dark space into a light, airy room that can be used in a number of ways.
The second most popular trend for basement remodeling is to incorporate a home theater system with comfortable seating, ambient lighting and state-of-the-art surround sound. Imagine how nice it would be to have friends over and kick back and watch a movie.
Let us not forget the Man Cave! Complete with a bar, wall-mounted t.v., special lighting and a place to display your memorabilia. This is also one of the most prevalent basement remodeling jobs in the KC metro.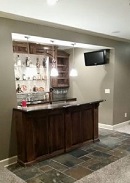 Another very popular trend in basement remodeling is to create extra space for visiting family or friends. Whether it's another bedroom/bath combo or a full guest suite, it's a practical choice that has many benefits. Retirees often choose to create a full suite for rental purposes, complete with an outside entry, a living room, kitchenette, multiple bedrooms and bathroom.
When planning your basement remodeling, consider how your family uses your home. Keep in mind each individual's hobbies and how you spend your time together. Depending on the size and layout of your basement, it could include areas to accommodate multiple uses. For instance, built-in shelving and storage units can house a favorite collection of artwork. If you enjoy online gaming, a special corner could be designed to make it gaming-central! 
At Johnson County Remodeling, we have seen and done it all and enjoyed every minute of it. We take a lot of pride in our work, and in satisfying our customers. We want you to love where you live, and do everything we can to help you plan and implement the basement remodeling job of your dreams. We have built a solid reputation for giving our customers what they want, and we'll do the same for you. Just give us a call! We're happy to sit down with you and go over all your options. Our top-notch design team and experienced, professional crew are waiting for your call!
913-322-9334