Bathroom remodeling has become a popular trend among homeowners who are looking to update their bathrooms with the latest style vanities and fixtures. Traditionally, when people think about home renovations they focus on updating the kitchen or adding on a bedroom. These days, instead of going all out on new kitchen cabinets or other upgrades, homeowners are choosing bathroom remodeling to add beauty, luxury and style to their home. However, while it can be fun and exciting to redo your bathroom, there is more to it than choosing beautiful fixtures or installing a new toilet – you must also consider functionality and costs.
Once you've decided it's time for bathroom remodeling, you need to take your time to plan the design and layout. In addition, you must create a realistic budget, prioritizing the features that are most important. A visit to a bathroom showroom with ample displays of all the latest and trendiest new sinks, vanities and tubs is great for inspiration – but don't get carried away. It's important to keep to your plan and your budget. Also, don't skimp on things like faucet knobs, medicine cabinets, or toilet paper holders. Sub-standard bathroom fixtures wear out quickly and can be costly to replace. Allow the extra money into the budget to get quality fixtures that will last for years with minimal maintenance.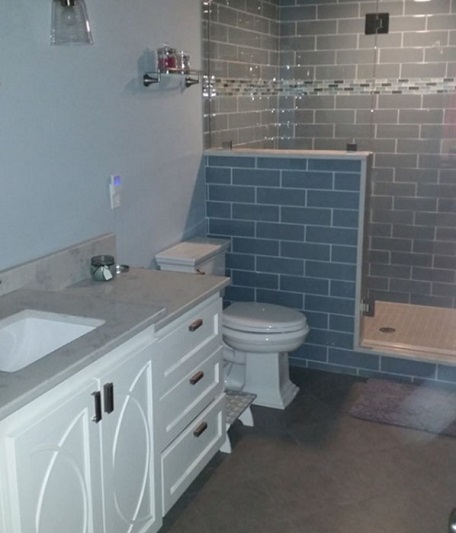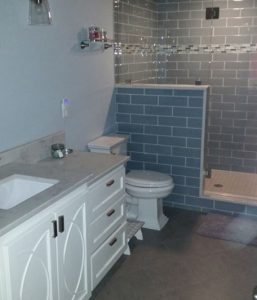 Taking a more leisurely approach will help to avoid mistakes and draining your bank account. An important way to ensure your bathroom remodeling project is more efficient and affordable is to consult with the professionals at Johnson County Remodeling. Our experienced designers take the time to listen to your ideas, working with you to devise a bathroom remodeling plan that will exceed your expectations. During the consultation, we will go over all the important points that are part and parcel of a project of this type, such as:
Space – The reason many homeowners want their bathroom upgraded is to make it larger. It's important to know what your space limitations are before buying fixtures – you want to avoid making the bathroom even more cramped by filling it with new, modern fixtures that are too large for the space.

Layout – Planning the layout goes hand-in-hand with enlarging the space in a bathro

om remodeling project. Before you start, consider the functionality – how many people will be using the bathroom, do you need a separate shower and tub combination or standalone unit? Will a double-vanity work better than a single sink? Does the bathroom need to accommodate someone with special needs? With careful planning and consideration, your bathroom remodeling will meet everyone's needs.

Style – For many, choosing the style is the most difficult part because there are so many options. It's like a smorgasbord of your favorite foods! Here's what we know about selecting one particular style over another – your bathroom should match the style of your home. A good rule of thumb, if you are in doubt, is to go with a classic design. You can dress it up with inviting colors and other decorative features. 
Other factors to address for bathroom remodeling are lighting and maintenance. There are many options for lighting that will enhance the space and lend an attractive style to match the rest of your décor. Choosing surfaces and fixtures that resist stains, mold, and water marks will make cleaning easier, and will require less frequent maintenance.
Your bathroom remodeling does not have to be a daunting task. A little thought and careful planning keeps you from being overwhelmed and Johnson County Remodeling's talented designers and contractors give you a bathroom you will be proud of.
Call

Johnson County Remodeling

today to discuss your basement remodeling project.
913-322-9334