Are you getting the most out of your basement? You may think of your basement as simply a place to store unwanted items—that winter coat you only dig out once a year, boxes of old toys or photo albums, and so on, but it doesn't have to be that way! Johnson County Remodeling specializes in basement remodeling, changing them from wasted space to rooms that homeowners can use for:
entertaining
wine cellar
craft room
man cave
bedroom space for in-laws or guests
anything else YOU can imagine.
How to Choose a Basement Remodeling Company
The biggest thing to look for is a company with experience. You need a company that has a strong portfolio, so you can be sure they're up to the challenge. You also need a company that has vision, and can give advice on what might work best in the space. Finally, a company needs to be able to provide references that support its claims.
Johnson County Remodeling fits this description perfectly—we are highly experienced and well regarded, and have an eye for the finer things. Whether you know exactly what you want to do with your basement or you need a bit of help settling on something, we are here to help.
Transform Your Basement with Johnson County Remodeling
For many, the basement is little more than the place where the water heater is stored. It's an unwelcoming space that houses items that are rarely used but you can't seem to part with yet.
With Johnson County Remodeling's basement remodeling services, your basement can be transformed into whatever you want. Whether you've dreamed of installing the perfect entertainment system, or are looking for the best place for your home office, we can help get you there.
Basement Remodels On a Budget
The first step in any remodeling project is to sit down with the homeowner to get a sense of what they hope to achieve. Once this has been established, our team can put together a plan for the project, all based off of the client's budget. One of the biggest benefits of a basement remodel is that it can be done regardless of how much you are willing to spend. If your budget is bigger, we can do a comprehensive overhaul of the space, but if you're looking to spend a more conservative amount, we can find creative ways to make the most of the budget.
How to meet or come in under your budget.
Define the vision of the project
Create a realistic budget based on that vision
Basement remodels are great for both conservative or bigger budgets
We have experience getting creative and helping customers get more than expected from their budget
Reclaim Your Basement Today
A remodeling project of any size is a significant undertaking. The aim is to completely re-imagine a space, so you need a company you can trust. Johnson County Remodeling has years of experience, and is a respected remodeling company in town.
With competitive prices, reliable, and friendly service, we are one of the top choices in town for quality basement remodeling services. Start making the most of your space today, and give us a call today at 913-322-9334 to set up a free consultation with a member of our talented team.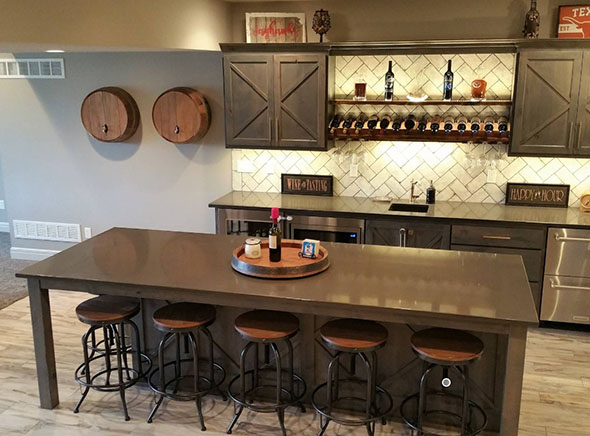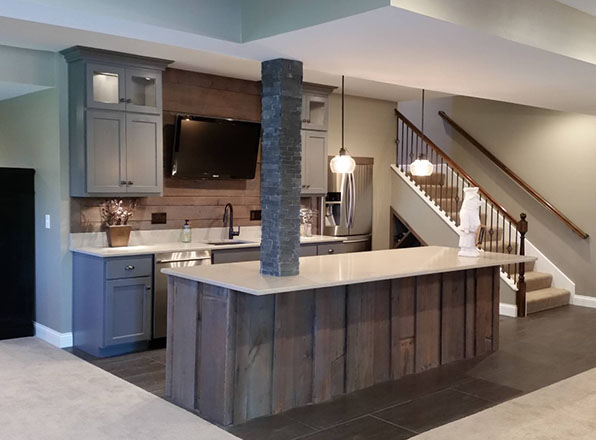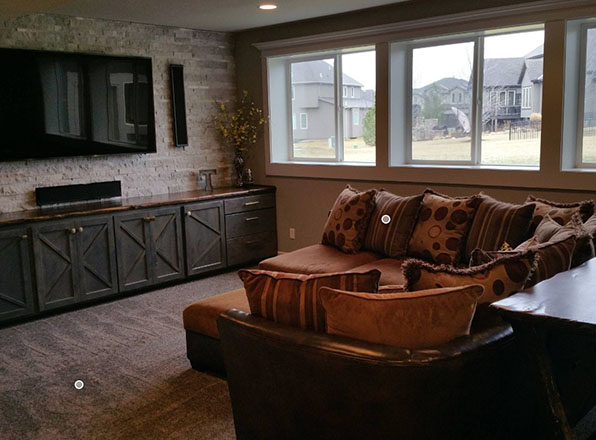 Contact Johnson County Remodeling for a Free Consultation Today
For your basement remodeling needs, go with a company that has the skills, experience and satisfied customers to deliver results time and time again that exceed client expectations.
Contact Johnson County Remodeling Today
Call us 913-322-9334 or fill out the form above for a free consultation on your next remodeling project.
We look forward to working with you, and to making your design build dreams come true.
Read our reviews on Houzz and Facebook.