Bathroom remodeling in Johnson County for 2021 should be in the planning stages by now. Starting on January 1st, homeowners have the opportunity to either start a new home addition project or take on a complete renovation of the bathroom – or multiple bathrooms, if they choose. The new year is the ideal time to leave behind an outdated, unattractive space and create a new look and style to enhance your home's design as well as improve day-to-day functionality. When you're ready to say goodbye to the faded wall color, worn-out fixtures, or any other feature you don't like, there are endless design ideas and trends to get your bathroom remodeling in Johnson County underway.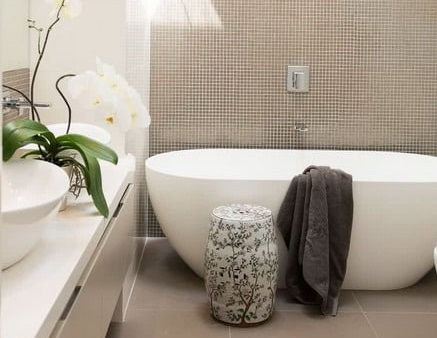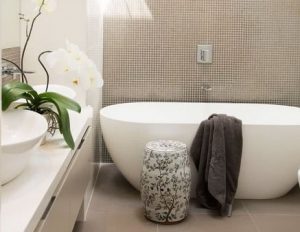 Here are the leading design trends for bathroom remodeling in Johnson County for 2021.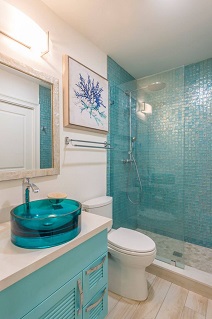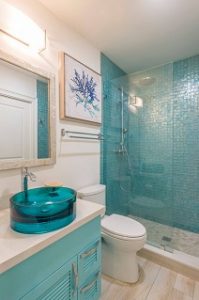 Color Choices. Along with traditional white and beige, light blues and grays are among the most popular color palette. But the leading new color choice is aqua – sometimes called turquoise. Either way, the lovely, vibrant green and blue shades of the ocean are trending for bathroom remodeling in Johnson County right now and will continue well into the coming year.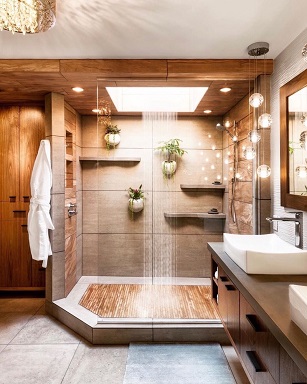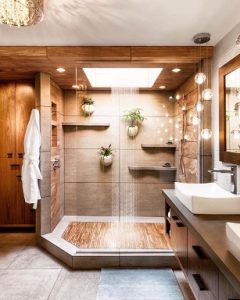 Lighting it Up. As a strong feature of any room, natural light is best. But in the absence of windows, there are many innovative, attractive light fixtures to be found in a wide range of styles and sizes, and for any purpose imaginable. One of the best ideas in bathroom remodeling in Johnson County can be installing lights that can be adjusted to acclimate the bathroom to your preference. Of course, windows or skylights can also be installed to allow natural light.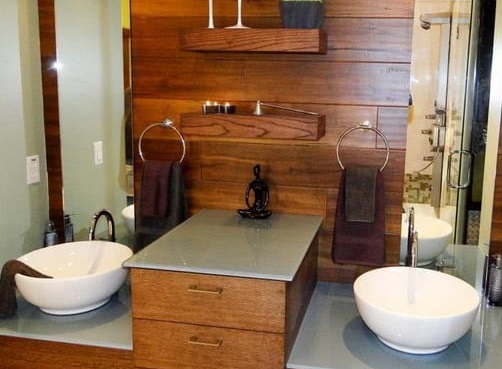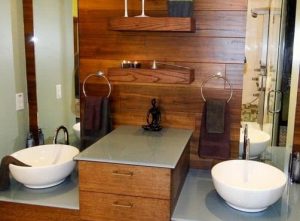 Natural Elements. Just as they were last year, the most-used elements for bathroom remodeling in Johnson County are wood, glass, and stone, as well as terrazzo, marble, and ceramic tile – on the walls, in the shower, and on the floor. Natural wood is used primarily for floor covering but is also expected to be a popular design choice for countertops, furniture, and walls. When combined with glass lighting fixtures and mirrors, stainless steel fittings, and other beautiful materials, wood gives a clean, fresh texture with a touch of luxury.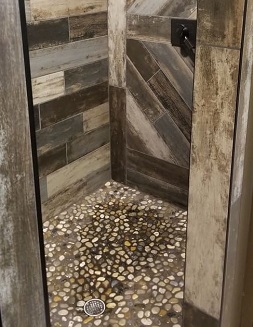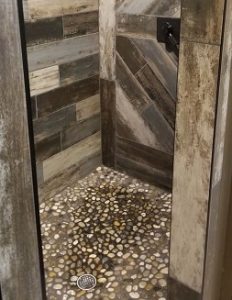 When designing the bathroom, it is important to pay attention to all the details, and that includes sinks, faucets, and tub styles. A continuing trend is choosing brushed bronze or bright, shiny gold finishes for faucet assemblies. Basins designed to sit atop the counter or old dressers are still very popular in bathroom remodeling in Johnson County, as are deep tubs. There are numerous styles available to fit anyone's tastes.
Technology also continues to be a priority amongst homeowners in Lenexa and Merriam, with many fun and functional gadgets. Simple bathroom design is being replaced with accessories like towel warmers, soap dispensers, shower controls, automatic toilets, televisions, and other technological features.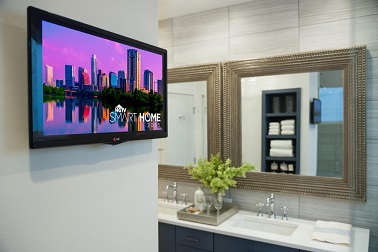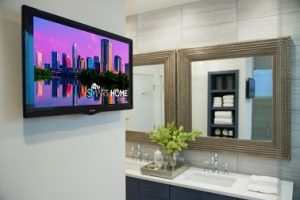 Modern bathrooms have become a place of refuge and relaxation to release the tensions of the day. Even with so many people working from home during the coronavirus pandemic, the hours spent glued to a chair and a computer can be exhausting. Having a comfortable, inviting bathroom with a soaking tub can be a great stress reliever at the end of the day.
When you're considering bathroom remodeling in Johnson County, it's important to plan everything before you start, including creating a realistic budget. Give us a call at Johnson County Remodeling and our team of talented, creative designers and contractors can help you plan your bathroom remodeling project. We will show you our portfolio of prior successful projects, and work with you to plan your budget, floor layout, and many other features that can be customized to your tastes and needs. Our goal is to create the perfect new bathroom for your home in Overland Park, Lenexa, Shawnee, or Merriam.



Johnson County Remodeling
913-322-9334 Lenexa, KS 66216