Bathroom remodeling trends currently range from bright, white marble with the use of lots of chrome, to warm, earthy natural tones, to an edgy industrial look. From tiny powder rooms utilizing the space under the stairs to sprawling master bath home additions – one thing that can be said, when it comes to bathroom remodeling in Johnson County, you won't see anything bland and boring!
Some of us can remember the days when pink and black subway tiles were all the rage – trust me, it's true. And it hasn't been all that long ago when avocado green swept the nation as the latest color choice for the bathroom and kitchen. Needless to say, if your bathroom is still stuck in the 50s, 60s or later decades, you need a bathroom makeover!
All kidding aside, changing the look and function of your bathroom can be simple or complex – it all depends on your budget and what you want or need. If you haven't been able to decide on a design for your project, Johnson County Remodeling has excellent designers and contractors that can help you, whether it's to plan a complete makeover or a bathroom off the kitchen. Let's take a look at some of the trendier bathroom remodeling ideas we're seeing in Johnson County this year.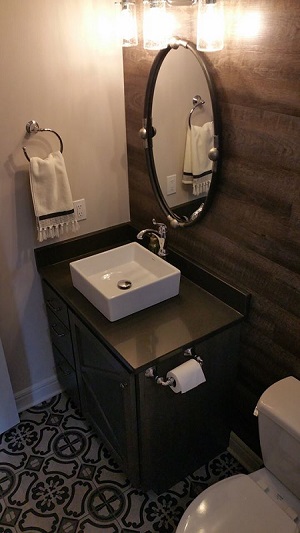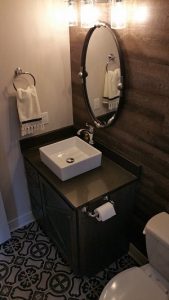 Framed Mirrors – Every bathroom has a mirror, usually more than one. Using a wooden framed mirror in a statement-making design will fit any look you're going for and is an affordable design trend that can give your space a fresh new look without breaking your budget.
Color Palette – Homeowners continue to stray further away from the gray tones that have gained popularity over the past couple of years. We're seeing a significant increase in the use of colorful accents and accessories, including brushed chrome and bronze fixtures.
In addition to warm, earthy tones, blue and green is becoming more popular and they pair nicely with neutral shades.
Floor Coverings – Warm travertine, slate tiles and bright, white marble (still classic) are amazing, beautiful trends in bathroom remodeling projects in Johnson County. Not only are these natural stone choices attractive, but they are also long-lasting and can be used successfully to complement any design style. Natural flagstone can be paired with travertine and marble and is becoming more popular. We see these stones taking over from vinyl and laminate floor covering for the foreseeable future.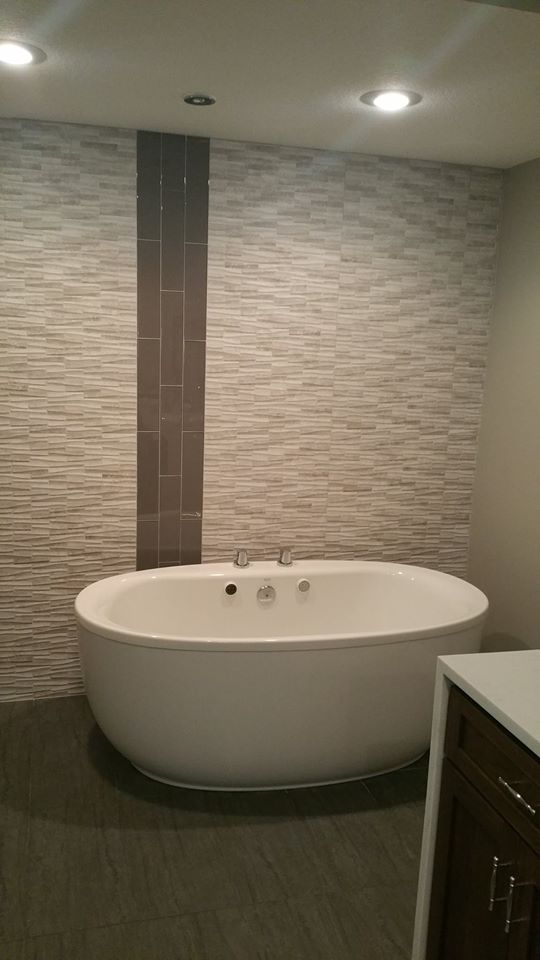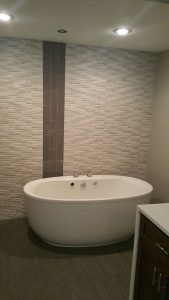 Tubs & Showers – Free-standing, deep soaking tubs and open showers are one of the most popular bathroom remodeling trends this year. Unique shaped tubs to match any décor are the perfect centerpiece. Plus, a deep soaking tub never goes out of style, whether it's free-standing, a corner unit or a sunken tub. Along with a large, open or glass-walled shower, if you've got the space, it's an excellent design choice. And of course, if you need to create additional space, Johnson County Remodeling has the ability to do that, too.
Tile is Back – Well, truthfully, tiling has never actually gone away. But the current trend is showing more creative ways to use tiles to get a stylized, attractive new look for any bathroom remodeling project. The rectangular shape of subway tile is being replaced with different shapes like hexagons and scallops, plus, using it as wainscoting can add extra drama and punch to the look of your bathroom!
Natural Textures – The use of stone and wood is among one of the biggest trends in bathroom remodeling these days. A free-standing wooden vanity in a unique style – whether you're going for an antique design or something with a more industrial look – can make magic happen. Wooden vanities are not new, but adding lots of wooden accents and native stone combined can evoke feelings of comfort.
Speaking of industrial design – it's quickly gaining as a very unique bathroom remodeling choice. Hammered, rusty-looking tin, paired with rough, barnwood-like wainscoting or wall-covering, and natural stone floors can make any bathroom extraordinary. Add some pops of color – red, yellow, green or blue – you'll have a bathroom that stands out from the rest.
When you're looking to give your bathroom a welcoming touch, combining the elements of natural wood and stone is one of the most practical bathroom remodeling design trends. It is visually appealing to paint vanities in mild or light-colored tones that highlight the wood's natural character while giving your bathroom a lived-in, rustic look. Wood accented lighting fixtures and unique wooden cabinetry, wooden-framed mirrors and wall décor add a classic style to a bathroom.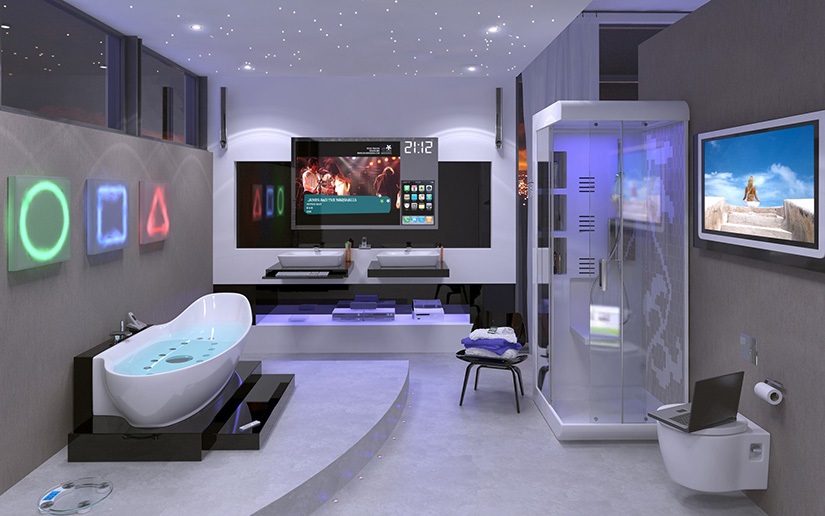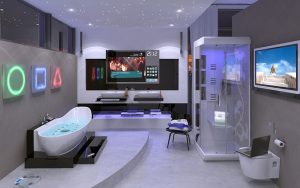 There are numerous high-tech upgrades that can give your bathroom even more comfort and convenience. For example, new underfloor heating systems, an under-counter blowdryer, smart controls to operate the toilet seat and shower controls, built-in deodorizers and more are possible when it comes to 2020 bathroom remodeling techologies.
Whether you're in the process of renovating your existing bathroom, or building a new custom-designed home, Johnson County Remodeling can accommodate all the latest design trends into your home. Contact us today and let's get starting creating the most spectacular bathroom imaginable!
Johnson County Remodeling 
913-322-9334