Bathroom remodeling is a popular choice for many homeowners in Johnson County, KS, who are looking to make significant changes in the appearance and functionality of their home. For some, it may be that the graduate has moved out and you're taking advantage of the unused bedroom space to expand the bathroom. Or perhaps an elderly parent is moving in, and you need to make allowances for their specific needs. Whatever the reason, Johnson County Remodeling pays attention to what people in the area are looking for.
Here are the top 15 bathroom remodeling ideas trending in 2020.
1. Handicap Readiness. With many Overland Park families downsizing or making other significant life changes, when it comes to bathroom remodeling, widening doorways, replacing standard fixtures with grab bars, and other similar measures are a top priority.
2. Tubs. Deep soaking tubs, walk-in tubs, and free-standing tubs of all sizes and styles are catching on. In fact, you can make the tub the focal point of your room. And right now, black is in!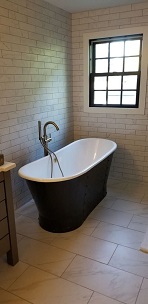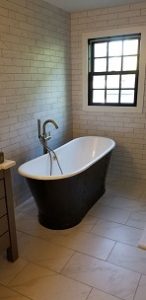 3. Showers. Large, walk-in glass showers allow easier wheelchair access and are easier to clean up, as well. Plus they help maximize small spaces. There are some really fantastic ideas trending for showers in Lenexa, including rain-shower heads, multiple jets, and built-in seating.
4. Lighting. With the continued advancements in lighting technology, it's easy to integrate lighting into the architecture in increasingly exciting, effective ways.
5. Glam. Nothing says glamorous more than a sparkling, crystal chandelier illuminating a room. Plus, when your bathroom remodeling contractor in Merriam situates it above your free-standing soaking tub – you'll feel like royalty.
6. Mirrors. Framed mirrors say it all! Black or white, gold, or silver – stylistic frames add a real touch of class. Modern, traditional, or something in between – there are many interesting design choices.
7. Hardware. Finishes in warm copper, brushed nickel, shining quartz, and bright polished chrome are all the rage in Mission and Olathe now for bathroom remodeling. Use coordinating knobs and pulls; take it a step further and add matching towel bars.
8. Brushed Brass. For a stunning look paired with natural stone, even as a small accent, like the frame of a mirror or the base of a sconce, brushed brass makes a major impact.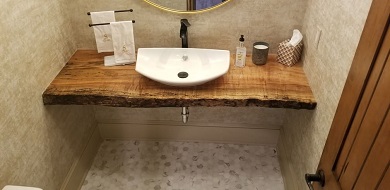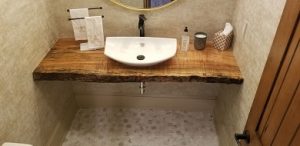 9. Countertops. Here's the one aspect of bathroom remodeling that with a little creativity can really set the tone. Old washstands, dressers, or a slab of rough-cut wood can easily be transformed.
10. Sinks. Bowl sinks are a top choice in Shawnee with many different styles to choose from. Match it to the overall design!
11. Color. A beautiful color palette, whether it's bathroom remodeling that accommodates elderly adults or suitable for the entire family, from bright white to bold purple, color adds pop.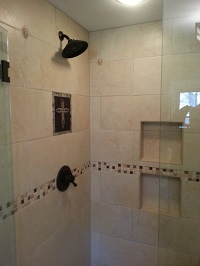 12. Marble and Quartz. Both are trending as a hot pick for floors, walls, and countertops. Rich, bold, and unusual marble and quartz are a frequent choice for bathroom remodeling; it's beautiful to look at, is highly durable, and easy to maintain.
13. Stone. As some trends in Overland Park are turning towards warmer, earth tones, many homeowners favor stones with warmer hues like travertine and limestone.
14. Technology. Smart technology is everywhere in Johnson County, KS, even in bathroom remodeling. From shower radios to automatic toilet lids, this is a trend that is becoming amazingly popular.
15. Storage. Maximizing small bathrooms with improved storage capabilities is often a necessity! Creating shelves and cut-outs between wall studs is a simple fix for Johnson County Remodeling contractors and not only provides additional storage space, but can enhance the overall aesthetic appeal of the room.
From a few small changes to a complete tear-out, bathroom remodeling can completely transform your space. Johnson County Remodeling has the experience and skill to produce whatever look and features you want. Our staff is detail-oriented perfectionists when it comes to bathroom remodeling. Whatever your goals are with your bathroom remodeling project, Johnson County Remodeling is here to listen, and then to translate your dreams into reality.
Contact J

ohnson County Remodeling

for a Free Consultation Today
913-322-9334
Lenexa, KS 66216