Kitchen remodeling has long been a popular way for homeowners to get a new look and better functionality. Even a basic paint job and new floor covering go a long way to freshen the space. When you rely on a professional remodeler who has not only years of experience with kitchen remodeling but has a team of expert carpenters, designers and tradesmen with exceptional skills, you're going to get a kitchen you'll love that will look good and last for years to come!
Here at Johnson County Remodeling, we've provided kitchen remodeling to homeowners around the area for many years, and have built our business on trust, quality work and great customer service. And we like nothing better than giving our customers a kitchen they can be proud of. When your kitchen is starting to show its age, the lighting is outdated and the paint is faded and dull, not mention chipped and stained countertops, it's obviously time to change things up to get a more modern, trendy look. Here are some inspiring suggestions for your kitchen remodeling project.
Let's focus on the cabinets, what exactly is it about them that you aren't satisfied with? Are the doors sagging or warped and drawers won't close? Is the finish cracking and dull looking? Whatever the issue is, we can fix it by installing completely new cabinets, measured to fit your space – perfectly. Even if your existing cabinets are structurally sound, they may look dated and just plain unattractive. One of the quickest ways to update your cabinetry is to refinish them with new paint or varnish. There are virtually unlimited choices for colors and types of cabinet finishes. And don't forget the hardware – hinges, knobs and pulls can make even the most blah-looking cabinets stand out. Trending currently is brushed gold or black knobs and pulls.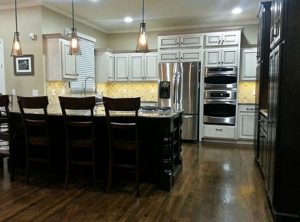 Countertops serve many functions – we use them for food preparation, eating meals, sitting around visiting with friends and the kids doing homework. Over time, countertops can really take a beating. For that reason, you need new countertops that are not only durable but compliment the overall design of your kitchen. You can really get creative when choosing countertops for your kitchen remodeling.
The most popular choices for hard-surface counters are:
Engineered Quartz. These are manufactured from a combination of rock aggregate, resin and pigments that is resistant to scratching and staining. Quartz can withstand high temperatures and there is no special care required; just normal cleaning keeps them looking great!

Hardwood. Always a favorite, wood counters can be beautiful, they're very durable and are easy to maintain. Many different types of wood are available for kitchen remodeling countertops to add beauty and class to your room.

Soapstone. We see this product most in commercial properties but it is growing in popularity in homes, too. Soapstone is manufactured primarily from mineral talc, quartz and a few other minerals. It is softer than wood or granite, is extremely heat-resistant and easy to maintain.

Granite. Very heat resistant and durable, granite comes in a wide-range of colors and variegated grain patterns. It does need some care, and over time needs resealing. In addition, you should use trivets to avoid damage from repeated heat exposure.

Marble. Still as popular as ever, marble is often used for island countertops. It is beautiful and long-lasting, but is a softer, more porous stone and tends to chip, scratch, and stain. It is recommended you clean it with a pH-neutral cleaner formulated for stone, and avoid contact with acidic foods such as lemons, tomatoes, and vinegar.

Stainless Steel. For several years now this has become the choice for homeowners, due in part to its easy-to-clean surface. It is required for commercial use as it is more sanitary, with no seams to trap bacteria and food waste.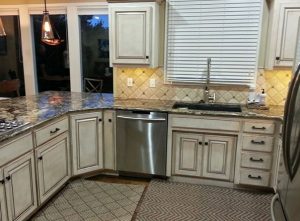 Whether you're looking for complete kitchen remodeling or a few repairs, Johnson County Remodeling can make it happen. From replacing old, worn out doors with beautiful, sturdy fronts, to taking down walls and opening up your space – we have the expertise and resources you need to give you the kitchen of your dreams. Visit our website and take a look at our gallery, or call and schedule a consultation. We're happy to work with you!
913-322-9334
Custom Cabinet Shop