Basement remodeling in Kansas City has been a popular trend for a while now and can involve anything from adding a game room for the kids to installing a second kitchen. But the most popular basement remodeling trend is to create a designated place for the man of the house – the "Man Cave."
Although a man cave can be located just about anywhere – in a spare room, a backyard shed, or the garage – more often than not homeowners in Kansas City choose the basement to give them the space they're looking for.  
Deciding on a design theme for your man cave is an important step when starting a basement remodeling project. The primary theme is what sets it apart from a regular entertainment room or den. Typically, a man cave is devoted to a man's hobby – whether it's Harley-Davidson motorcycles, sports, music, or gaming. In Kansas City, it's often the Kansas City Chiefs.  Diehard football fans can get very creative when designing a Chiefs-themed man cave where good friends can hang out, watch the game, and enjoy drinks from the wet bar.
Johnson County Basement Remodeling can build custom cabinets for the wet bar and install many of the other special features in a convenient corner of the basement.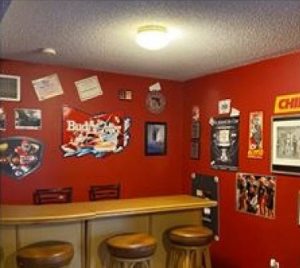 ,
For a more elaborate man cave, if you have the budget, go all out with your basement remodeling project and include a roomy home theater and wet bar as part of your overall design. There's no better way to kick back and relax with the guys and catch a game in comfort.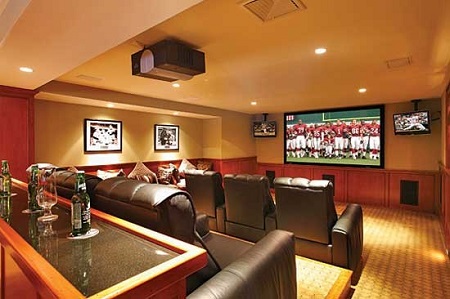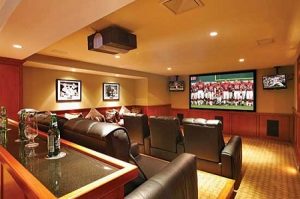 Many basic basement remodeling plans allow for a man cave centered around a pool table. Johnson County Remodeling can make the best use of all the little nooks and crannies by adding lighting, building a bar in a wall niche, and adding custom lighting features to turn it into a haven for guys and gals to hang out.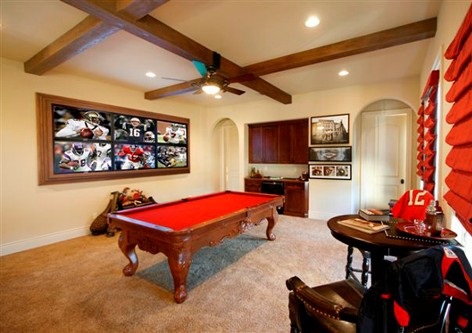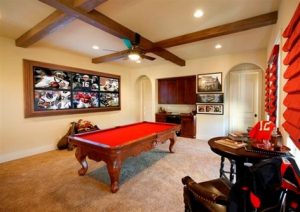 A man cave is a personal sanctuary where basement remodeling can create personal space for indulging in your hobbies or spend quality time with your friends. What better place to display your collection of old Chief's signage and memorabilia? The best thing about choosing Johnson County Remodeling is that you have complete control over the design and décor.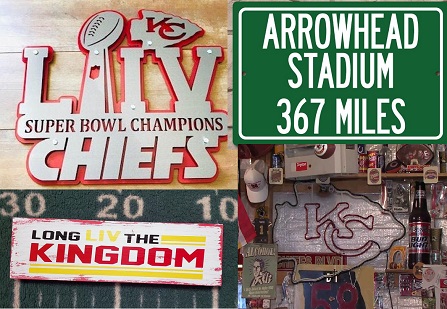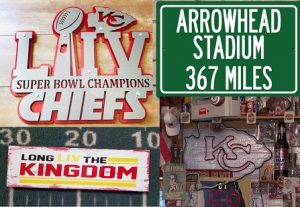 When you need a quiet retreat from the racket of the kids running around upstairs, or just need to catch some downtime, basement remodeling can give you a cozy, well-insulated man cave. You'll enjoy your privacy and protect your personal space.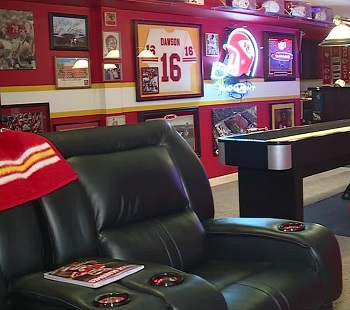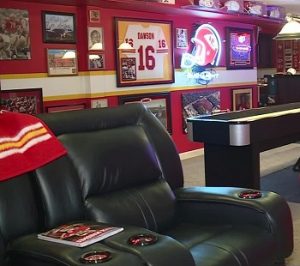 Johnson County Remodeling works with you to give you the man cave you dream of. If you want a "Chiefs Kingdom" theme dominating the room, we'll take it from the floor to the ceiling and customize everything in between. We can make sure that everything from the wall color, to the style of furnishings, to the flooring is aligned with the Chiefs theme. We'll include your sports memorabilia, wall art, and whatever else you want to include. If we need to carve out a corner of the room, or go the gamut and take over the entire downstairs space, whatever you want, we'll accommodate you. As fellow die-hard Chiefs fans, we know how to get it done. Give us a call – we're ready to get started!
Schedule a Free Consultation!
Johnson County Remodeling
913-322-9334
Lenexa, KS 66216