A kitchen remodeling project can be the perfect opportunity to get the look and functionality you've always wanted for your home. Traditionally, the kitchen is where family members congregate to spend time together, sharing meals and catching up. In many homes the kitchen is separated from the main living space, which can restrict the natural flow and function of the home. 
A popular trend in Kansas City is to redesign the kitchen by creating an open-concept plan, which can effectively change the entire dynamic of your home. Knocking down walls and merging adjacent rooms creates a more spacious, functional area that the entire family will enjoy. There is plenty of space to enjoy food prep, homework, games, and chat all at the same time. As an added bonus, you now have plenty of room for entertaining guests!
Kitchen Remodeling: Open-Concept Kitchen Layout
In a traditional home layout, kitchens are separated from the rest of the house by walls, with a formal dining room adjacent to the kitchen. In an open-concept design plan, interior walls are removed – typically from the dining room, living room and hallways – to create a more spacious area popularly called "the great room."
When you have an open-concept design it makes your home look and feel larger than it actually is, and it's easier to get around without all the barriers. This can be especially important for handicapped family members who are confined to a wheelchair.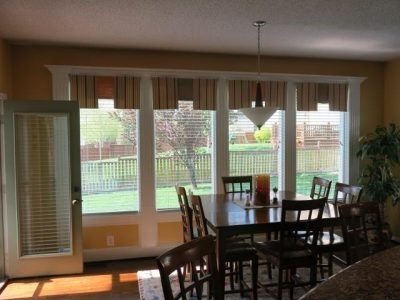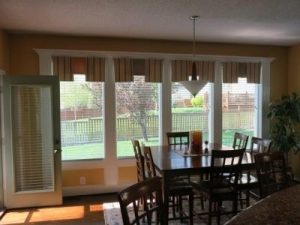 An important design-change that can enhance your home's appearance and accessibility is to add sliding glass doors or French doors to access your porch, deck or patio. It will let in more light, and also allows greater access to the outdoors. Also, when remodeling your kitchen you can upgrade with new cabinets and appliances.
Other additions could be a large walk-in pantry and a mudroom. For busy homemakers, adding space for a desk, utility closet, and laundry room or alcove can be beneficial. Including a wet bar is a very popular design trend, as well, especially if you entertain a lot. Further, additional dining space can allow for larger dining room furniture items with no cramped spaces to navigate. 
Love where you live!
Your newly expanded space after kitchen remodeling can turn what may have been a boring, uninteresting home into a beautiful, inviting place. The only limitations are your imagination. When you're ready for a new, updated look for your home, start with kitchen remodeling. Johnson County Remodeling are experts at transforming kitchens into works of art! Whether it's as simple as adding in a few cabinets or doing a complete overhaul of the whole space, you can trust Johnson County Remodeling to get the job done. 
913-322-9334
We're a Full-Service Kitchen Remodeling Company