The design build phase of our home remodeling business utilizes 3D technology to get remarkably precise illustrations with accurate measurements for every project. This is a unique feature that not many remodeling companies do for homeowners. It is an important advanced technology that enables us to visualize complex site conditions, structural connections, and just about anything else we need. At Johnson County Remodeling, we have come to rely on 3D illustrations during the design build phase of our remodeling projects, saving time and money by avoiding rework and delays.
It's no secret that globalized technology has provided ways for industries of all kinds to meet consumer demands. Accordingly, home remodeling companies must adapt, and using such technologies as 3D illustrations during the design build process helps to not only meet expectations, but to stay ahead of the competition, as well. 3D illustrations are a quick and easy way to create precise drawings that can be previewed before putting the saw to the wood, avoiding costly mistakes. In addition, we are able to generate specific reports with itemized lists for every aspect of the design build project, which is helpful for accurately estimating costs.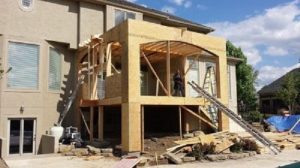 With our design build expertise and years of experience, we are able to present homeowners with many options using 3D illustrations. Being able to visualize what their new addition or remodeling project will look like gives them confidence in their decision and helps increase their overall satisfaction with the project. It also helps build trust in our design build team, and is also beneficial for planning decorative aspects and make any adjustments for purposes of better functionality of the completed space – before it's a done deal and can't be easily changed.
If you are planning a home remodeling project, one of our professional team members will meet with you and go over your ideas. We'll walk you through the design build process and work with you as you plan a workable remodeling project. Once we know what you want, and have obtained the exact measurements of the space, we will create 3D illustrations for your review. When we have created a plan that you are satisfied with, we will do a more in-depth design and pricing to show that it aligns with your proposed budget.
Whether you are planning a kitchen remodel, bathroom or basement makeover – or anything in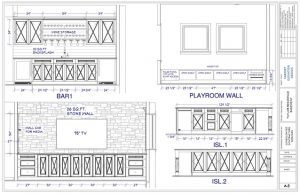 between – Johnson County Remodeling, using 3D illustrations, takes your vision and turns it into your reality. We invite you to review our project gallery for ideas and begin structuring your budget. We'll guide you through the design build process, using your ideas to create 3D illustrations of the new space to help you get a clear understanding of your options. When you hire us for the design build portion of your home remodeling project, you own the designs, blueprints, and plans that are generated. We hope you will choose Johnson County Remodeling for your project, but there are no obligations.
913-322-9334
We offer a one year warranty on our build services.